Getting rid of word turds is a big part of my revision process. Because, let's face it: word turds can stink up your writing. Think flabby, unnecessary words like "very" and "just." Think overused directional words like "glanced" and "looked." Think of your own word crutches.
For one of my earlier books, I overused the word "shiver." I mean, everyone shivered at some point in the story (the whole mystery thingie), and sometimes multiple times. For my current book, I recently caught on to words like "burst" (e.g. he "burst" into the room) and "exhausted." Nothing is wrong with those words per se. In fact, "burst" is a great action verb, but how much bursting can people do in one book? Too much bursting and you go from apt word choice to word turd.
After doing the "big gutting" — rewriting whole sections, diving deeper into characters, reviewing and revising for pacing and form — I always go through my word turds. I have a running list of over 100 words that I overuse as I draft. There's a picture of it below, coffee-stained and doodled on. (And I'm sure there are more than 100. I'm constantly adding to the list when a new word turd reveals itself to me.)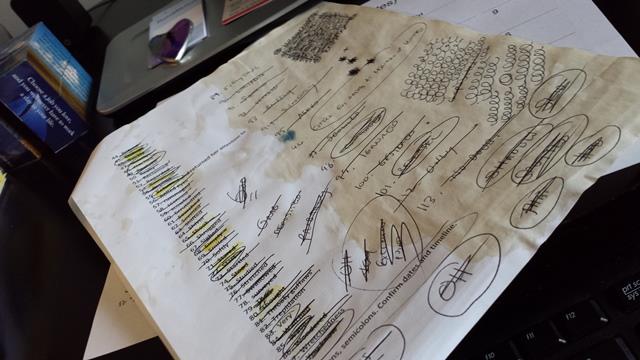 Why do I do this? Well, words matter. I realize this isn't a revelation. I mean, I'm writing a novel, after all, so of course the words matter. But they matter in ways so many of us don't even realize as we're reading. Words affect rhythm. Mood. Character. (One of the biggest challenges I face when writing a novel from multiple viewpoints is making sure the different character voices actually sound different.) And it's amazing how the overuse of a word can affect the reading.
A few years ago, I read a book where the main character "scowled" so much that was all I could see. The word "scowled" became such a distraction, I even stopped reading at one point to flip back and count how many scowls had been used. It's the main thing I remember now about the story. (And this was a traditionally published book.) The editor should have caught that because we're talking excessive use.
Anyhow, my word turd list forces me to exorcise many unnecessary words and it often forces me to re-think and re-cast chunks of text.
Here's my process:
I put a word, like "glance," into the "find" function in Word. This immediately brings up a left-hand sidebar with all the instances of the word "glance." (Actually, for a word like glance, I'd enter "glanc" into Word, since that would picked up the words glance, glanced, and glancing.) See the screen shot below. And, no. This isn't the new book. 🙂 (It's from Granite Creek.)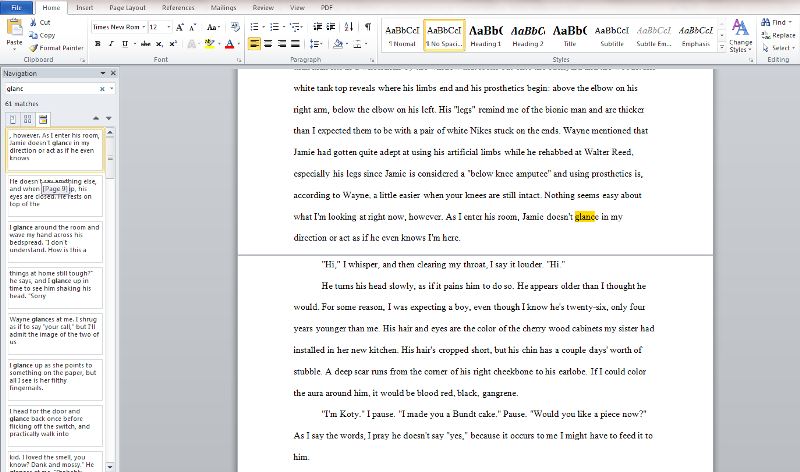 From there, I go through each instance of the word. I read what's around it. Reading out of context is great because it forces me to catch things I might miss if I were simply reading forwards. Sometimes the word stays. Sometimes it doesn't. Sometimes it stays, but I completely gut the section and make it stronger.
I do this for each word on the list.
By the time I'm done, the writing is much tighter. During my most recent Word Turd Exorcism, I lost over 1000 words from the manuscript (and the manuscript was short to begin with, 62,000 words). Everything got a lot tighter, a lot smoother.
There you have it. So tell me, fellow scribblers: what are some of your own common word turds? Share in the comments. (No judging!)
0
0
Robyn Bradley
https://www.robynbradley.com/wp-content/uploads/2022/02/Robyn-Bradley-Logo_1.png
Robyn Bradley
2015-12-16 08:00:34
2022-02-10 14:33:35
Word Turds