What Happened in Granite Creek evolved from my short story "Support Our Troops," which I wrote in November 2007. I always knew the short story wanted to be a novel and even scribbled a climactic scene when I was drafting the short story, holding it in my "Extras" folder, knowing I'd come back to it eventually.
The people in my writers' group, the Nobscot Niblets, were the first folks to read the short story. Reaction was mixed: people either loved it or hated it. The lovers made me feel good, but the haters were some of the members whose opinions I respected most, and I took their comments to heart.
One member felt the story was a bit cliché, and he was right since I'd originally set it in the south with every stereotypical thing you could attach to a southern family. Another member hated—and I mean HATED—the story, mainly because she couldn't understand why Koty would stay in such a miserable situation. This same member also hated (rightfully so) Koty's husband, because he was hateful…a total flat character. A person is never all good or all bad, but you wouldn't know it by the way I'd written Wayne four years ago.
I revised and revised, believing in the story in a way I'd never believed before. Life got in the way for a while. In May 2008, I was moving and finishing up my grad school thesis – I included "Support Our Troops" in it, having worked on it under the gaze of my wonderful faculty advisor, the writer Leah Hager Cohen.
After that, I sent the story out to some literary journals and received some rejections and a few encouraging notes. I shared the story with a friend, Stacy, who sat me down and reminded me that the story was not done, that I had to finish it. She was right, and I knew it, but I didn't have a clue how to go about completing it. This was the summer of 2008.
Finally, in the spring of 2009, the story was accepted by the editors at FictionWeekly.com. The editors wanted to know if I'd be willing to do some trimming – they felt the story began around page 6, and they wondered if I could condense some of the details and weave them in elsewhere. They were absolutely correct, to the point where I felt many of the details weren't even necessary. I literally lopped off six pages and started the story without doing too much backtracking or re-weaving.
The short story was published in June 2009. The reaction I got from readers reminded me—once again—that the story needed to go longer. People wanted to know what happened with Koty and Jamie. So that summer, I sat down and tackled it, having a hazy idea of where the story was going, but not the first clue how to get there.
When you meet two of the main characters in the short story and novel – Koty and her husband, Wayne – they've been married for 12 years. It's an unhappy marriage, but that characterization is unfair, I think, since what marriage is ever entirely happy or entirely sad? It's usually a combination of both, and I knew it was important to show the full landscape, not simply one close-up shot. Wayne and Koty had a history, and not all of it was bad—parts of it were happy, normal even, and I wanted to show this without getting weighed down in clunky flashbacks.
At the same time I was figuring this out, I was reading  The Time Traveler's Wife by Audrey Niffenegger, which is a book I love because of the story, but also because of the crafting behind it, specifically how the author handles time. Her book inspired me to play with time in the draft of the novel. This was extremely liberating — it gave me the freedom to show scenes from the past by alternating my timeline between chapters: one thread runs in chronological order from September 2008 to December 2008 (in Part I) while the second thread runs in chronological order from 1995 to 2007 (again in Part 1). Part II then jumps ahead six years and takes the reader from March 2014 to May 2014.
Once I figured out the structure, the writing went smoothly — easily, actually. I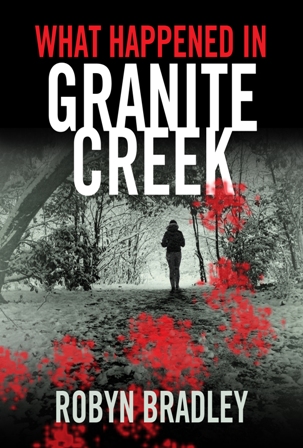 finished the first draft in the spring of 2010. I did a little work here and there through July 2010. Then, I didn't touch it again until March 2011, which was when I revised and took a hard look at everything. It went off to my beta readers in June 2011. With their feedback, I revised the final draft in July and August 2011 and fit in some last-minute research that came about in an unexpected manner (more on this in another post). And here we are today with the final version: from "Support Our Troops" to What Happened in Granite Creek.
My hope is the story and characters are real in each reader's mind. No cardboard characters, no clichés, plenty of surprises, but all grounded in a nitty-gritty reality. That's my hope, anyway, but, of course, I leave the final assessment up to you, the reader.
Read on!
Twitter hashtag: #WHIGC
https://www.robynbradley.com/wp-content/uploads/2022/02/Robyn-Bradley-Logo_1.png
0
0
Robyn Bradley
https://www.robynbradley.com/wp-content/uploads/2022/02/Robyn-Bradley-Logo_1.png
Robyn Bradley
2011-10-25 07:00:22
2011-10-25 07:00:22
From Short Story to Novel