One Star, Five Stars, Rock Stars
Check out the reviews on almost any book, and you'll quickly see a pattern emerge: all the 5-star reviews read eerily similar. Ditto for the 1-star reviews. The 5-star reviews will often have lines like "I couldn't put it down" or "I was pleasantly surprised" or "I loved this book."
One-star reviews are famous for saying things like "Don't waste your time and money" and "I won't be reading anything by this writer again" and "I don't understand all the glowing 5-star reviews." (To see what I mean, check out two books that have over 38,000 reviews each: Gone Girl by Gillian Flynn and The Girl on The Train by Paula Hawkins.)
The most revealing reviews tend to fall in the middle: those well-written, thoughtful 2- and 3-star reviews. When I'm considering a book, those are the reviews I tend to focus on.
As a writer, I don't stress over reviews — at least, not too much. I know my books aren't for everyone. In fact, there's no such thing as a "universal book" that everyone on the planet can agree to love. And that's OK. More than OK. I always tell people if they don't like a book, I guarantee there's a book out there that they WILL love and to go find that book. 
The danger is when people who hate a book for whatever reason get so caught up in their hate for the book that they can't get past it. When that hate turns into a so-called righteous cause where they insist no one else should read the book, that's a problem. These folks should go find a book that makes them happy and brings them joy. Wouldn't life be so much better for everyone?
Today (Feb 12) is Judy Blume's birthday. She's one of my all-time favorite writers, a true ROCK STAR of the writing world. (Tiger Eyes is still one of my favorite books; I probably first read it when I was 11 or 12.) Blume has had her share of critics over the years (and back in the day, her books caused controversies). I love her quote below.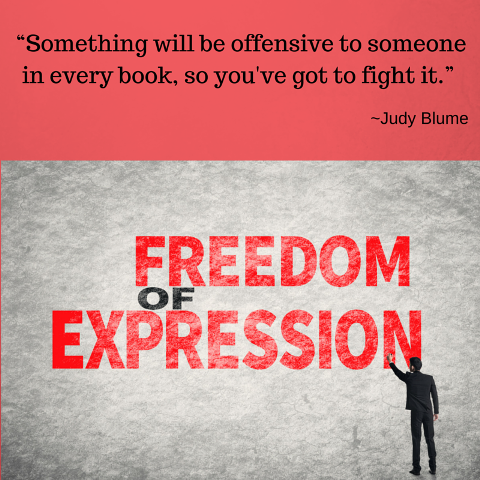 Rock on, Judy. And rock on, readers and writers alike. Write the books you love; read the books you love.
0
0
Robyn Bradley
https://www.robynbradley.com/wp-content/uploads/2022/02/Robyn-Bradley-Logo_1.png
Robyn Bradley
2016-02-12 08:00:03
2016-02-12 08:00:03
One Star, Five Stars, Rock Stars