Get a FREE short story. Sign up now!
Howdy. And welcome.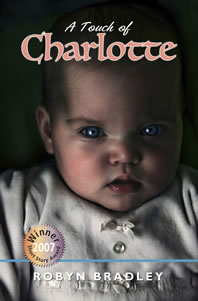 You look like someone who could use a good, creepy story. Which means you've come to the right place.
When you sign up for my newsletter, Twisted Tales & Other Tantalizing Tidbits, you automatically get my award-winning short story: A TOUCH OF CHARLOTTE.
Yes, this short story is FREE just for signing up. It's my way of saying thanks.
That's the cover over there. Creepy, right? Don't you just need to know what Charlotte is up to? Find out by clicking on the button below and claiming this short story for yourself.
Once you submit the brief form, I'll send you an email with all the details (the story is available in three formats: Mobi, ePub, and PDF).

By the way, once you can get the goods, you can immediately unsubscribe if you want. But I really hope you don't. Why? Because my goal is to serve up delicious newsletters that you're going to LOVE to read.
We're talking dispatches filled with interesting  stuff related to what I'm writing, reading, and crushing on. Think strange happenings, serial killer stories, weird stories about twins, fortune cookies, quirky things that catch my fancy, and, well…you get the idea.
TANTALIZING STUFF. 
I'll always keep the tantalizing stuff short and flirty because I know time is at a premium for everyone. So expect just enough tantalization to make it fun, but not so much that it gives you indigestion. Plus, I'll occasionally share my latest book recommendations, book giveaways (not just my own), and other cool swag.
I send out Twisted Tales & Other Tantalizing Tidbits once or twice a month (occasionally more, but only when I have big news or something exciting to give you). And, like I said before, you can unsubscribe at any time.
Ready to sign up and get your FREE copy of A Touch of Charlotte? Just click on the sign-up box below and fill out the brief form.