Meet Robyn Bradley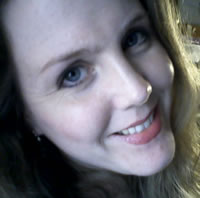 Robyn Bradley is a copy bitch by day and novelist by night. She has an MFA in Creative Writing from Lesley University, and she won a short story award in 2007 for "A Touch of Charlotte." Her work has appeared in FictionWeekly.com, Metal Scratches, The Breakwater Review, among other places. When she's not writing or sleeping, Robyn enjoys watching Law & Order marathons, drinking margaritas, and determining how many degrees really separate her from George Clooney.
Okay, so that's the "official" bio.
But it feels weird to talk about myself in third person, so I'll now transition to first. What would you like to know? How 'bout a list? I love lists.
Vitals: Female. Born in '73. Unable to shimmy up the ropes in gym class.
Residence: A Boston 'burb.
Family: Youngest of six (I have five brothers). Thirteen nieces and nephews.
Undergrad: Stonehill College, Class of 95. BA in Communication.
Grad school: Lesley University, Class of 2008. MFA in Creative Writing.
Favorite authors: Lionel Shriver, Gillian Flynn, Jodi Picoult, Chris Bohjalian, Susan Orlean, Anne Lamott, David Sedaris, Jo Ann Beard, Cormac McCarthy, Jack London (there are too many to name, really).
What I loved to read as a kid: Anything by Judy Blume, especially Tiger Eyes. Alfred Hitchcock and the Three Investigators series. The Hardy Boys. Sweet Valley High Series (don't judge). Where the Red Fern Grows by Wilson Rawls. Night by Elie Wiesel. And Then There Were None by Agatha Christie (even though in seventh grade Dan Checkoway told me whodunit before I got to the end). The Little Prince by Antoine de Saint Exupéry. "To Build a Fire" by Jack London. "The Veldt" by Ray Bradbury (which made me want to write short stories). The Egypt Game by Zilpha Keatley Snyder. Seventeen magazine (which I started reading when I was around thirteen).
When I knew I wanted to be a writer: Mrs. Shea's fourth grade class.
My first job out of college: Actually, I got my first job while I was in college. I was lucky enough to land a paid summer position at Boston's Magic 106.7 back in 1994 when I was going into my senior year. I stayed with Magic full time for the next six years and returned part time until 2007. And believe it or not, I honed my writing skills while I worked in radio.
Life after radio: I launched my copywriting business, E.T. Robbins Productions, in August of 2002. Copywriting pays the bills and gives me buckets of time to work on my creative stuff, like eBook short stories. I also was an adjunct professor at Massachusetts School of Law and Stonehill College.
Favorite movie: Casablanca. Close runners-up: When Harry Met Sally, L.A. Confidential, The Shawshank Redemption.
Favorite food: All things Italian.
Favorite sport: Football.
Favorite vacation spot: Cape Cod.
Interesting FYI: I'd gone skydiving, rock rappelling, hot air ballooning, and white water rafting by the time I was twenty-one. Three of those activities I did while I lived in Australia, during my junior year of college. I also did stand-up comedy in my early twenties. Life has gotten considerably boring since then.
Got a question or comment? I love hearing from readers and fellow writers. Contact me now.